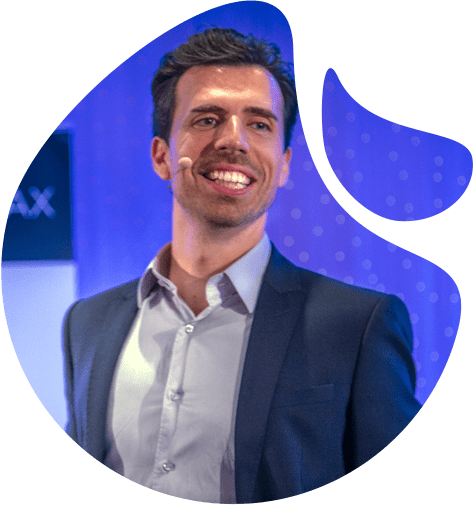 Max Piccinini grew up in Strasbourg, in a family with 4 children with significant money problems and daily arguments.
Following the death of his father in a car crash at the age of 14, Max suffered an enormous emotional choc. He realized the true value of life, and how lucky we are with each day we have to live.
Max decided to get out from the crowd, and make a difference; he couldn't accept to spend 40 years of his life working in a boring pattern metro-work-sleep, and ending up with 40% of a pension.
The adventure begins
At the age of 19 with one week's salary in his pocket after having completed the first year of University, Max started as a Day Trader and invested the small sum he had.
This adventure became a daily source of stress and disappointment, without the freedom he was aiming to. Two years later, he had no money, and his confidence was ruined. He experienced his first failure.
At 21, he started his own business – anti-aging products distribution. Despite the continuous efforts, he still had not achieved the success he was hoping to, with just enough money to survive, living under constant stress and with poor professional results. Max got tired really fast and lost his motivation. This was his second failure.
At that point he discovered and understood the principle that would change his destiny: "If I want to change my outside world, I need to transform my inner world first."
Max understood that like most of us, he has hit his "inner brakes" and that he's a victim of self sabotage.
Because of his education, environment and models, everything he does is destined to fail.
He discovered the existence of the Inner Program set to failure, and that if he wants to change something he would need to completely change his thoughts, emotions, beliefs, perspective and actions.
He became very passionate about this particular subject – reading hundreds of books, participating in dozens of seminars, applying everything he learned in real life. After numerous efforts and endless study about the secrets of success, he finally realized how to simply and efficiently apply principles of success.
His entire life changed…
Post transformation period
In less than 3 years, at 26, Max became part of the top 1% of revenue-generating individuals in the French-speaking community. He was finally financially independent. His life and business improved constantly in an astonishing way. Max has succeeded in all fields of life. He is a true example of the "life in abundance".
He is the only "Life Coach" who FIRST became a millionaire and succeeded in all segments of life (and all that before he turned 30), BEFORE he launched himself as a life coach.
Max doesn't just pass you the theory from books. Max shares his own experience and essential key factors necessary for a sustainable and genuine change.
His life is a synonym for freedom, success, love and charity.
His mission is to inspire and help others to make their life exceptional.
"Everything is possible and you can turn your life into a real Master Piece! It is your responsibility to learn the Success Principles and to do everything in your power to apply them in order to create your dream life." says Max with strong conviction.
Max's passion is to help others transform their inner world, release their inhibitions, program their Success and become a better version of themselves.
Through various programs and seminars and with his inspiring, direct and unique style, Max helps you to improve yourself and to obtain truly concrete and sustainable results.
Let Max be your guide to create the freedom and independence you've been dreaming about.
MAX'S VALUES
Help you become a better version of yourself!